Medical Tips
Helpful Advice
Interesting Facts
Humor
Abbott & Costello-
Buying a Computer
Featured Writers
Photographs
Contact newsletter Staff
Please include your name, address & apartment number if you want an item posted.
If you wish, we can post it as anonymous. But, we do need to verify that you live in Fillmore Gardens.
BULLETIN BOARD
WELCOME!!
Welcome to all the NEWCOMERS who have moved into FILLMORE GARDENS over the past few months. We hope you are getting "settled in" and will enjoy your new home and neighborhood!! It is a pleasure to have you join our community. WELCOME!!!
---
CONGRATULATIONS TO:

---
GET WELL WISHES TO:
---
CONDOLENCES

---
Our thanks go out to the Maintenance Committee and Ed Scafidi who, as usual, is right out there overseeing whatever projects are in process, making sure all work is properly performed! Thanks again Ed!
---
Just a friendly reminder – please separate and dispose of your recyclables in the proper containers. All containers are clearly labeled.
---
Thanks!
Thanks to our Librarian Lily Sorin who very graciously gives of her time to keep all the books sorted, labeled and in order. We all thank you!
NEIGHBORHOOD HAPPENINGS
NEW FISH STORE – "SEATIDE"
If you haven't been there yet – definitely try the SEATIDE FISH STORE on Avenue N off Ralph Avenue. SEATIDE has a vast array of fresh fish – at reasonable prices, in addition to a great cooked fish counter in the rear of the store and a sushi counter in the front. Fish lovers try it – you'll like it!!!
NEW RESTAURANT – "CIRCLES BISTRO"
" Cooperator" Tony Gatto opened "Circles Bistro" on Coney Island Avenue between Ave. Y & Z. Try it for reasonable lunches and dinners. Hey, Tony, do we get a discount?? Ha, Ha!!!
---
BE AWARE! There have been some "incidents" in the area and we just want to advise all of you to be aware as you walk throughout the neighborhood…be mindful of those around you and also of any solicitors that may approach you. Take good care – Thanks!
---
All are invited to come down and enjoy the Community Room. Hours are: 8:00am until 5:00pm. There are board games available, darts, TV, the Library, card games, etc. going on almost daily (check the Social Acitivity list posted on the Bulletin Boards) or just come sit down, relax and enjoy the cool air during this steamy summer.
---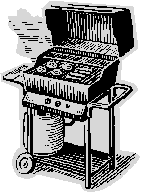 BARBECUING!!!!! Some cooperators have been asking about barbecuing. You are permitted to barbecue in an area behind the buildings that does not block any cars. Take extra special care that nobody gets injured. Also, you must clean-up when you are finished. Make sure the coals are completely out before you dispose of them.